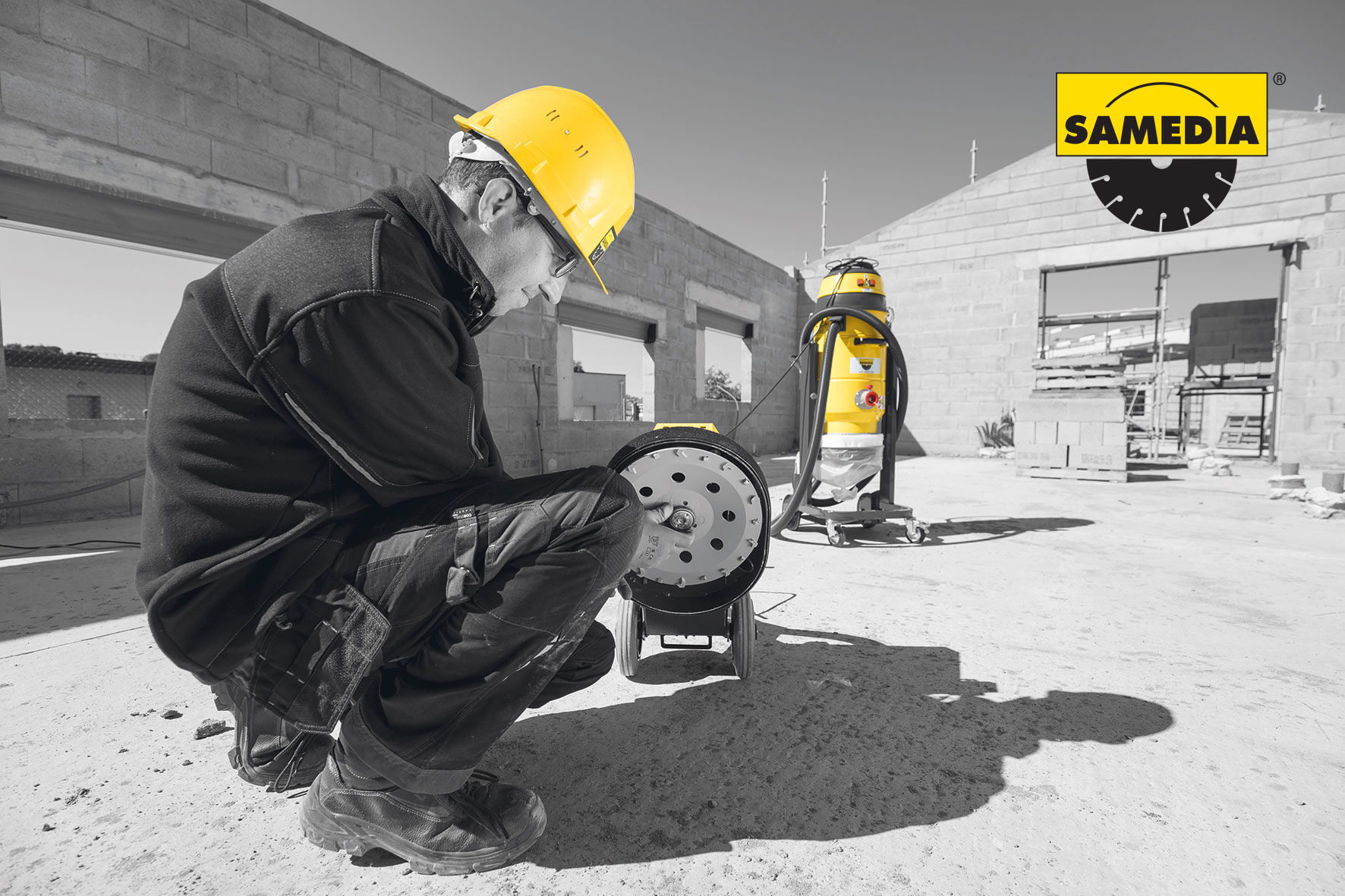 Samedia: a SEAM success story in Sustainable KPI report 2021
Our soon to be published annual Sustainable KPI report has already shown incredible results. SEAM member Samedia, leading European manufacturer of professional diamond tools & construction machinery, crushed 2021 goals for Sustainable Chemical Management and Waste Management.
Environmental Pillar: Sustainable Chemical Management KPI Reporting
For the first KPI, SEAM members were recommended to reduce the use of hazardous chemical substances. Samedia made it a corporate goal to scale down the use paint thinner to depict its diamond tools by 15% in the next three years. From 2017 to 2021, the company was able to go from 0.006 to 0.0023 liters/diamond sold. In 2021 the goal was to reduce the use of chemicals by 3% compared to the previous year, but Samedia hit it out of the park by reaching -11%.
Several actions made this possible. First and foremost, in 2018 Samedia started using the new commercial and corporate visual identity, which allowed to simplify the branding painted on the blades. Tools plates (central part excluding segments) are now varnish or black, instead of displaying several different colors (red, green, blue, yellow….) as before. Suppliers also had a great impact on the cutback of paint thinner as most of diamond core bits now arrive already painted. Moreover, from the second quarter of 2022, Samedia started using Digiprint and should need less paint or paint thinner in order to repaint over already painted blades.
2022 is also off to a good start, considering that, despite an increase of orders, only 390 liters of paint thinner have been used in 6 months.
Environmental Pillar: Waste Management KPI Reporting
Samedia's success story continues: the objective was to downgrade the volume (cm3) of wasted carton per sold product. Over the past 5 years, the company halved the amount of carton used per product going from 933 cm3 to 470 cm3. Samedia was able to achieve this impressive result through logistic simplification: basic communication with suppliers. Indeed, they have been asked to group the diamond tools together in the same packaging, therefore, platform deliveries generatee less: 1 box per pallet contains several hundred tools.
Samedia's global approach on sustainability
As a member that embraces all of SEAM's values, Samedia invests also in economic and social sustainability. Over the past few years, the number of km travelled per €1,000 of sales went from 62 km to 40 km. This shows commercial efficiency and the company's efforts in promoting sustainable development. Many sales are now made with follow-up phone calls and videoconferences or via platforms. Adding to that, customers are less eager than before to travel for a sales meeting.
The company products are certified, conceptualized and developed in order to be more and more sustainable in time. Health and safety in the working environment are in fact key aspects when developing and bettering diamond tools. Products become not only stronger and faster, but also safer to use. All tools exceed the safety requirements of the EN 13236 European standard and Samedia makes a constant effort in producing tools increasingly silent in order to reduce noise pollution and protect worker's health. For example, most of SAMEDIA solutions now include vacuums for dust extraction while cutting, grinding or drilling, allowing workers to use tools & machines indoor without risks to inhale dangerous particles.